Gotcha! You thought this blog was going to be about burgers, tasteless, mass-market ready-meals and greasy kebabs, didn't you? No doubt you were bracing yourself for one of my rants on junk food and the need for more cookery education. I'm sorry to disappoint you, but this blog is about the type of junk food we wholeheartedly approve of here at Nina & Co! 
If you've been keeping up, you'll know how much perfectly good, edible food is thrown away every day. You'll also know my views on this appalling waste when millions of people are starving all over the world. That's why we're so excited by the Real Junk Food Project. And now we're worried that it's under threat. The bottom line is… if the project doesn't raise £130,000 before the 1st January 2015… the Leeds café will close!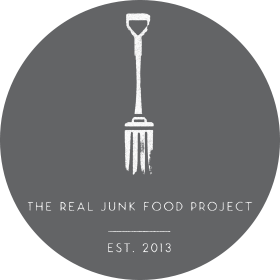 It's a simple concept. Instead of supermarkets throwing away surplus food, we should make use of it. And that's exactly what the Real Junk Food Project is doing. Founders Adam Smith and Johanna Hewitt started the project in Melbourne when they discovered the scandalous amount of food that was being wasted. When the couple returned to the UK, they realised before they could change the world, they must start with Adam's home town of Leeds where they now were living.
Adam was given access to a community kitchen in a poverty-stricken part of Leeds which had a high crime and drug abuse rate. During a trial period in December 2013, Adam and Johanna cooked Christmas dinner for the area's homeless. Now the café is open seven days a week, but faces closure if it doesn't get the financial support it needs.
Because the project has been so successful, a network of similar cafés has opened in Leeds and other cities across the UK. The cafés work on a 'pay as you feel' (PAYF) basis. This means payment for meals can be made in hard cash or bartered for time or skills, or the provision of services. Customers range from the well-heeled to the homeless, who all happily rub shoulders over the dining tables. The food used in the cafés comes from local businesses which donate still edible food that's past its sell-by date, or incorrectly labelled products or food that's simply surplus to requirements.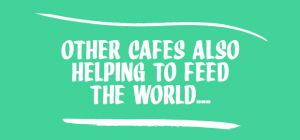 In the Bristol area, the Nando's chain supplies the Skipchen café project with surplus chicken from its local restaurants. The Skipchen volunteers have also connected with the Gleaning Network to make use of unwanted produce.
This is an awesome example of the Big Society at work and we applaud everyone involved. What possible excuse for malnutrition can there be when we throw away some 40% of our world's food supplies?
So get involved, folk. Donate food and how about putting your hand in your pocket and making a donation to save the Leeds café too.  And while you're at it, why not give up some of your time to help this amazing project. You'll find more information on the Real Junk Food Project website. Let's all pull together to put an end to this waste – right NOW!
How about that? Who would have thought I could blog about junk food without a single rant? But with this sort of junk food, it's easy!