Barbecues. As much a British institution nowadays as fish and chips or roast beef. With this summer's heatwave we haven't needed any excuses to host an impromptu BBQ. The Royal Wedding, the World Cup, Wimbledon… it's been a case of the sun's shining so let's get outside and party!
But STOP right there. We all know things like single use plastics are busy hogging the news' limelight, but did you know your BBQ could be doing untold environmental damage?
Rewind 50 years or so in the UK when cooking outside was something only intrepid campers and Girl Guides did. Isn't that when they rubbed two Boy Scouts together to start the camp fire? Your Grannie would, no doubt, wonder why we would want to cook outside today when we have a perfectly good kitchen indoors.
But the barbecue, a US culinary import, is probably one of our most popular forms of entertaining. They're fun. They're casual. It's the ultimate al fresco dining experience. Who can resist the sounds and the unmistakable aroma of sausages sizzling over charcoal? So what's the problem? Or are the Nina & Co. team just hell-bent on being party poopers?
The problem is the charcoal and its origins. The Brits' love affair with the BBQ has become a contributing factor in global deforestation. In 2017, we imported over 90,000 tonnes of charcoal. Charcoal is produced in the UK, but surprise, surprise, it's cheaper to import the stuff and to hell with sustainability. Much of the UK's charcoal is coming from forests in Nigeria and Paraguay where deforestation is a huge problem, and we need to do something about it!
Before you get on your high horse and say you insist on buying charcoal that is FSC (Forest Stewardship Council) certified, apparently it's not that simple, as this revealing article from our friends at the Beeb explains. There have been problems with FSC fuel. More than 20 companies lost their FSC certification last year for selling unsustainable products. Suppliers mix charcoals from different areas and it is very hard to identify its origins.
So what are the alternatives? I'm not suggesting we ban the barbie, but is there a more sustainable and ethical way of enjoying al fresco cooking? The obvious choice is to convert to gas, but I can feel you gourmet BBQ chefs recoiling in horror. Gas barbecues are quick and a doddle to cook on, but is flavour sacrificed on the altar of convenience? A matter of opinion perhaps, but even the head of the British Barbecue Society has been converted to the delights of the gas barbie!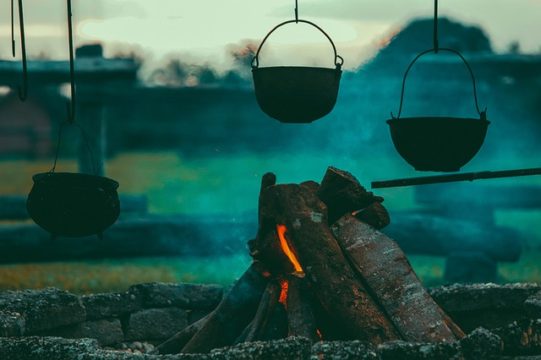 What about alternative, more environmentally friendly BBQ fuel? You'll find some advice online about cooking with wood and even drift wood, but that seems unpredictable, at best. Coconut shell charcoal gets some good reviews, as does briquette-type BBQ fuels, but they don't come cheap!
So, what's the answer? Well, start by checking the packaging next time you buy charcoal. Try to find a supplier of UK charcoal and avoid anything that doesn't have the FSC logo. They might be having problems, but they are aware of them, which must be the first stage in resolving them. Be selective. M&S says it has a sustainable wood policy. The Co-op's Fair Trade charcoal seems to be a safe bet.
So good news! There is light at the end of the BBQ tunnel as long as we're aware and ethical in how we source our charcoal. I'm off to pour myself a beer now while my British charcoal-fuelled BBQ hots up, and we make the most of this wonderful weather.
P.S. Tesco (why am I not surprised?), hasn't replied to the BBC's request for information so strike them off your invitation list! They were NEVER on mine.