It's not that long ago that haggis was a delicacy rarely found outside Scotland. Traditionally served on Burns Night (25th January), haggis was accompanied by 'chappit tatties and neeps' (mashed potatoes and swede). In the most northerly parts of Scotland, haggis would be served with 'clapshot'.
But with our passion for unusual and exotic food, global demand for haggis has soared. It's not just exiled Scots who are snapping up haggi and holding Burns Suppers to celebrate the work of the Scottish bard, Robert Burns. Haggis is now a popular choice on Hogmanay and Burns Night menus in every corner of the world.
And celebrity chefs such as Jamie Oliver and the Hairy Bikers are getting in on the act too. Haggis is now featured on the menus of many of the UK's top restaurants. But all this comes at a price…
Haggis stocks are being depleted. Unless something is done, this ancient little creature could find itself amongst the world's endangered species alongside Galloway cattle and Hebridean sheep.
What are haggis?
Haggis (dux magnus gentis venteris saginati) are shy creatures and not easily spotted in the wild. Over thousands of years, they have adapted themselves to their natural environment, developing longer left legs to give them stability on their mountainous terrain. It is thought the haggi's legs have evolved over thousands of years to facilitate grazing as they move around the Scottish mountains in a clockwise direction.
During the haggis-hunting season, Skye Terriers, themselves an endangered species, round up the haggi and bring them down to lowland pastures where their left ipsilateral legs cause balance problems. Strategically placed nets (a little like sea fishing nets), are used to catch the haggis as they fall.
To protect the dwindling numbers, the haggis hunting season is strictly controlled and it is illegal to hunt stappits (pregnant females) at any time. However, the Scottish Highland Police Agro-Squad are reporting a serious increase in haggis rustling. So far, few offenders have been caught. They are believed to bait traps with whisky-soaked grain and use specially trained retrieving sheep to bring the intoxicated haggi down from the mountains. The rustler's sheep blend in with the local flocks, making them hard to identify. This, in turn, hinders the apprehension of these unscrupulous criminal gangs.
Haggis breeding
In the past, there have been unsuccessful attempts to breed haggis in captivity. On flat terrain, their unsteady gait has affected the hagg's (adult male) ability to mate. In 2007, genetic management helped overcome the problems. Effectively, a new more resilient variety of haggis has been bred.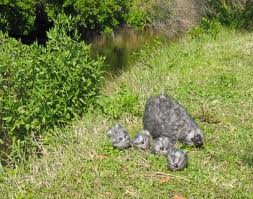 A report entitled 'Applications of ultrasonography in the reproductive management of Dux magnus gentis venteris saginati' states the aim of the project was to introduce genetic material from southern hemisphere haggis. The Haggis mundus novis, also known as Haggis backto-frontus, was used to breed haggis with even-sized legs. This has meant haggi can be bred in captivity on lowland farms.
To date, all haggis farming has been confined to experimental stud farms in the Scottish Lowlands. Now in an exclusive interview with Nina & Co, Banburyshire farmer Liam McToshindosh has revealed his plans for the first-ever English haggis breeding farm.
Ten stud haggs (mundus novis) have been imported from southern hemisphere breeders and the first hundred stappits (breeding females) will arrive early in the New Year. For security reasons, the exact location of the McToshindosh haggis farm cannot be revealed. However, we understand it will be close to transport links, an abattoir, and a local food processing plant, to reduce food miles and pre-slaughter stress levels in the animals.
Liam's ambition is to breed a new multi-purpose generation of super-sized haggis. In addition to rearing haggis for the table, a new milking parlour and dairy is planned for 2016 to bring the first artisan haggis cheese to the UK market.
Remember… you heard it first from Nina & Co. I'll leave you with the immortal words of Robert Burns 'Address to a Haggis'…
Fair fa' your honest, sonsie face,
Great chieftain o the puddin'-race!
Aboon them a' ye tak your place,
Painch, tripe, or thairm:
Weel are ye worthy o' a grace
As lang's my arm.