There's nothing sweeter than the sight of a little bunny rabbit going hoppity, hoppity, is there? But are we, as a nation, ignoring a valuable food source because the thought of eating one of those cutesy little creatures is just too much to swallow?
During and after WW2, rabbit was a staple part of the nation's diet. Rabbit pie and stews were tasty and nourishing, and breeding bunnies were sometimes reared in wartime gardens. Rabbits also provided a very useful by-product – their skin. According to a history of the 1900s website, rag and bone men paid hard cash for dried rabbit skins which went to make clothing and boots.
Rabbits, as we all know, need no encouragement to… well… breed like rabbits, so they were a cheap, available and completely sustainable food source. A doe has up to twelve in each litter and just one female can produce up to 100 babies a year. That in itself would suggest we should be making more of rabbit meat.
In 1953, the myxomatosis epidemic hit Britain. The disease had been introduced in Australia and France as a means of controlling the rabbit population, with disastrous results. Some 95% of the UK rabbit population was wiped out, and it would seem its popularity as a meat source died along with the disease.
As a meat, rabbit has a lot going for it. It's low fat and almost cholesterol free, and there's more meat on a rabbit than on a chicken. And according to this article listing ten good reasons to eat rabbit, each little Flopsy or Mopsy will produce six pounds of meat compared to every pound produced by a cow on the same amount of feed and water. That's a statistic you can't ignore.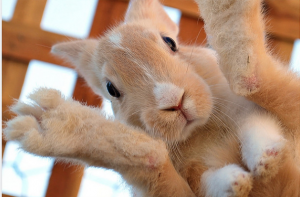 Despite all the countless rabbit recipes created by TV's celebrity chefs, we're still not queuing up at our butchers to buy it. And unlike European supermarkets, our UK counterparts still shy away from putting rabbit on their shelves. As a result, the volume of rabbit produced in the UK is low.
According to Scotland's Rural College, only two to three thousand tonnes of rabbit is produced annually in the UK, with some five thousand tonnes imported from overseas.
But if rabbit regularly features on your menu, we must urge you to buy British. It's only by creating demand that UK rabbit production will increase. And like many animals reared overseas, the standards of welfare, even in Europe, do not measure up to ours here in the UK. This horrific and distressing video by Compassion in World Farming reveals the appalling standards of rabbit farming in EU countries.
So how do we overcome our aversion to eating rabbit? Is it coloured by our love of Beatrix Potter's tales of Peter, Flopsy, Mopsy and Cottontail? Or are we just too set in our ways to broaden our culinary horizons? I don't know the answer. But with the world's food security under threat, I suspect one day we might have to look at some of these under-rated foods that we currently shun.