Innovation always warms my heart. And when I heard about Change Please, an innovation that's combining change and social enterprise, I was positively aglow.
You probably know how we feel about the plight of homeless people. We've blogged before about the ludicrous idea of councils fining people who have the effrontery to sleep on the streets. We've applauded the concept of 'suspended purchases' of food and drinks for those less fortunate than ourselves.
Now Change Please, a social enterprise based in London, is changing the lives and fortunes of homeless people by providing them with training, careers, a living wage and a large dollop of self-esteem.
So what is Change Please?
Launched in 2015, Change Please describes itself as a 'coffee brand that's unlike any other'. But it's more. Much more. This innovative organisation has combined our love of coffee with a practical and effective way of helping London's homeless people.
How often do you pop out to the likes of Costa or Starbucks for your daily coffee fix? I'm sure the fat cat shareholders appreciate your contribution to their already over-flowing coffers. But what if you could indulge your love of great coffee AND know that the money is being ploughed back to provide jobs for London's homeless people?
Change Please works with organisations such as CrisisUK, The Big Issue and the Single Homeless Project to identify people who are ready and keen to work. They are then trained by coffee industry professionals. In addition, trainees are helped with housing, setting up bank accounts and paid a living wage. After 6 months' training the employees are skilled and ready to move on to other employment.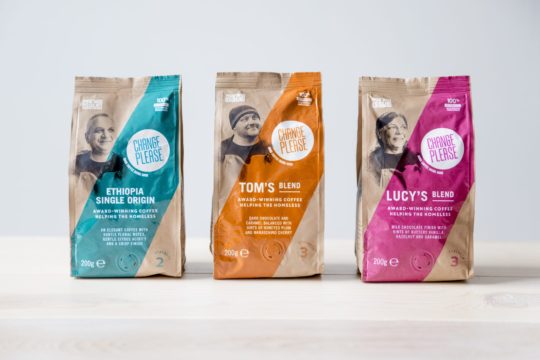 With eight mobile coffee carts and seven permanent locations in London to date, Change Please has helped 35 homeless people get back into society. What's more, the quality of the organisation's coffee has been recognised by supermarket giant, Sainsburys, which stocks the Change Please ground coffee in 375 stores across the country.
The number of homeless people in the UK continues to increase. The life expectancy of men sleeping rough is just 47 years and 43 years for women. How many of us can say we have never thought, hand on heart, that 'there but for the grace of God, go I'? The harsh reality is that one in ten people experience some sort of homelessness during their lives. Now something positive is being done to reverse this trend.
The Change Please concept isn't rocket science. They are providing customers with a quality product prepared and served by skilled staff. With the UK coffee market growing, they are filling a gap in the market. Baristas are in short supply and there is no shortage of employment opportunities for skilled staff. But what sets Change Please apart is that their operation isn't about greed and profits. It's about changing people's lives for the better and creating an ethical and sustainable business model for the greater good.
We're watching Change Please closely and hope it won't be long before the concept spreads to other areas of the food and drink industry, and beyond.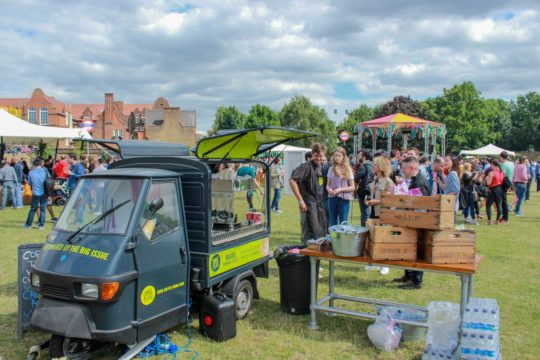 So the next time you fancy a latte or a cappuccino, make the change. Let's all get behind Change Please and really make a difference. Visit the Change Please website for their location details. If you organise events, why not book a coffee van and a barista for the day and treat your visitors to great coffee and a great concept?
And finally, can I just remind you of another great reason to become a Change Please coffee lover. Take another look at this blog about Costa Coffee's social conscience. I rest my case …