Everywhere you turn at the moment you'll see, hear and read about the problems caused by single use plastic. And a very real problem it is too. Needless to say, we have strong opinions here at Nina & Co. If you've read my blog, you'll know I can never resist the opportunity to fire a few salvos at the dreaded supermarkets, but today, it's not them who are on my hit list.
Of course, supermarkets are sitting ducks when it comes to apportioning blame. And there's no doubt they are guilty as charged. But to be fair, the wholesale plastic pollution problem is not just down to them. Everywhere you look, we're surrounded by plastic.
Ever noticed all the trees and hedgerows draped with torn shrink wrap that's blown off lorries?
Then there's the millions of products sealed in plastic blister packs (that nobody can open!).
How about the NHS? How many tonnes of plastic are used each year with sterile packaging. Many things previously sterilised and reused are now disposable. Even the tourniquets used for blood tests are single use now. Why?
Remember when things like aspirin and other medication came in glass bottles? Nowadays they are sealed in plastic packs.
Look at our postal services. How many magazines and packages come in plastic mailing bags?
Taken any parcels to the post office recently? They put labels through the printer (2 to a sheet) and the plastic-coated backing paper goes in the bin. In December, Royal Mail delivered over 130 million parcels. That's 65 million pieces of plastic coated paper in just one month!
I could go on. And on. And on. It's a huge problem but it's not insurmountable. But it needs our politicians to have the 'proverbials' to tackle the problem.
Ban non-recyclable plastics!
Let's start with some tough legislation banning the use of ANY plastic packaging that can't be recycled or isn't biodegradable, with HUGE punitive fines for companies who break the law.
Are we meant to be reassured by the Government's consideration of measures to reduce the use of single use plastics? I'm not. That was six months ago. We need ACTION – not consideration! And we need it NOW!
And where did all that consideration get us? An Environmental Audit Committee proposed a levy of 25p 'Latte Tax' on disposable cups. But now it seems our lily-livered Government ministers are too frightened to impose taxes to reduce waste.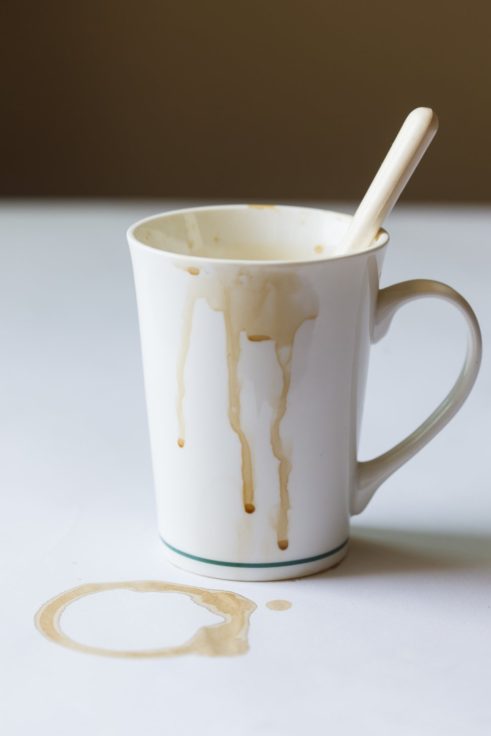 But would a 25p latte tax help? If you're happy to pay £2 to £3 for your favourite speciality coffee, will an extra 25p persuade you to bring your own cup? Of course it wouldn't. And how practical is that? If people can't be bothered taking a shopping bag out with them, what are the chances of them taking a cup? And what do you do with it afterwards? Would you men want to carry a sticky coffee cup around in your jacket pocket for the rest of the day? How about you, girls? What would an unwashed cup do to the lining of your Hermes handbag?
If that proposal is to work, the tax revenue would need to be spent on providing more recycling resources and enforcing their use. Go into any town centre and you're hard pushed to find a rubbish bin, let alone a recycling one.
Force local authorities to meet recycling targets
Did you know councils' recycling rates are getting lower instead of higher? This BBC report makes interesting reading. A lot of plastic can be recycled but because it costs them money, councils just don't bother.
If you want some hard facts about councils' recycling performance, check out this DEFRA report. There are huge regional variations in the amount of waste recycled. For example, in the South East, South Oxfordshire recycles 64% of its waste. By comparison, Gosport Borough Council's recycling rate is a paltry 22%.
One of the Nina & Co. team now lives in Gosport, having previously lived in Oxfordshire. He emailed two of the area's councillors about their appalling recycling performance. Surprise, surprise! The response from Labour Councillor June Cully was weak, bland and no more than lip service… and I quote…
"I have always been keen to see an increase in recycling and will continue to press for more opportunities for people to do so."
Errr… Ms Cully, forget the platitudes. How exactly do you propose to meet the Government's 50% recycling target before 2020? And isn't it about time you and your fellow councillors removed your digits and did something about it?
So for once, I'm not banging the big bad supermarket drum. Of course we need to address the supermarket's packing issues, but for today, at least, I'll let them off the hook. But rest assured… I'll be back.