There's nothing more guaranteed to melt the hardest heart than the sight of a young calf skipping happily along beside his mother… until it is presented on our plates, that is. Today, despite huge welfare changes, many of us still associate eating veal with animal cruelty.
Let's flashback to the 1980s when eating veal was considered reprehensible, at best. Veal eaters were considered to be without conscience, and this valuable meat source all but vanished from the table. And with good reason, I have to say. I get gooey over all baby animals (who doesn't?) and the thought of a calf suffering sends me straight to the vegetarian section in the cook book. And pre-1990, suffer they did.
As veal was shunned by the British public, lorry loads of calves were finding their way in crowded cattle trucks to Europe where the consumers weren't so discerning. Despite the efforts of campaigners blockading the ports, the inhumane veal production continued, as did the bad press.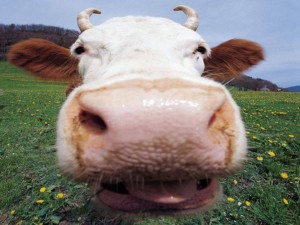 Veal calves were separated from their mothers at birth and reared in the dark in 'veal crates'. Like sow stalls, they gave the calves no room to move. They were often tied up to restrict their movement because exercise would prevent the meat from being pale and tender. Calves were fed a milk-based diet without the normal roughage of grass and hay. According to Compassion in World Farming, these poor calves were so anaemic, they wouldn't have survived to adulthood anyway.
Here in the UK, that's behind us, yet eating veal continues to be a taboo. Today a new argument has reared its head. How can we, with a clear conscience, refuse to eat veal when it is reared humanely? Until we change our attitudes, we'll be sentencing around 100,000 newborn male calves to death each year in the UK.
With 1.81 million dairy cows in the UK calving annually to sustain milk production, the problem of what to do with the male calves isn't going to go away. Male calves raised for pink veal have the same life expectancy as lambs – and we eat them happily enough. Chickens bred for the table are slaughtered at about 8 weeks old, yet it is one of the most popular meats in the UK.
This senseless slaughter of calves is unacceptable. Globally, we're not producing enough food to feed the growing population, people are starving, and yet we continue to slaughter bull calves at birth because our attitudes are still entrenched in the 1980s.
So what are the facts about British veal?
Veal comes from calves less than 8 months old
Rose veal comes from calves between 8 and 12 months old
Veal crates were banned in the UK in 1990 (2006 across the rest of Europe)
If penned, the calves must have room to move about and interact with other calves
Calves must have thick straw bedding
Pens with uncomfortable slatted floors are illegal in the UK
Calves must have unrestricted access to food and water
From two weeks of age, their diet must include fibre to prevent anaemia
The campaign to put veal on our plates and change consumers' attitudes is gaining momentum. Organisations like the RSPCA and Compassion in World Farming are helping. TV celebrities like Jimmy Doherty, Hugh Fearnley-Whittingstall and Dhruv Baker are committed to the campaign and so are we all here at Nina & Co.
We've learnt from the past. Now let's put it behind us and stop this senseless waste of animal life and start valuing veal as the prime food source it really is.
But remember, the standards of animal welfare in other countries varies. Please make sure the veal you buy is ethically raised right here in the UK and enjoy it with a clear conscience.