If you're a regular to the Nina & Co. blog, you'll know how irked I get when it comes to the senseless waste of food.  You'll also know I've been ranting about it for years.  That's why I thought it was time to give you a progress update and share my delight at how the war on waste is gradually being won. 
There's hardly a week goes by when we don't see another big brand joining the 'waste not want not' movement.  Like the Tesco situation, I might be sceptical about their motives but hey, it's the results that matter.  So what's the latest goss on the streets of waste?
The Real Junk Food Project
Just 18 months ago, I reported on the Real Junk Food Project and their café in Leeds.  The café, operated on a 'pay as you feel' (PAYF) basis, uses surplus food donated by allotment growers, other cafés and restaurants, and even donations from members of the public.
Meals are served to everyone and anyone who visits the café.  There's no discrimination and diners include business people, homeless people, and everyone's welcome.  You pay what you can afford or what you want to pay, or what you feel the meal is worth.
In late 2014, there were just a handful of Real Junk Food Project cafés.  Now there are over 30 cafés in England, one in Scotland and two in Wales (come on Scotland and Wales – get moving – you're being left behind).  Cafés in some areas are sourcing food from supermarkets and the organisers hope to roll this out even further in time.
Ugly Vegetables Campaign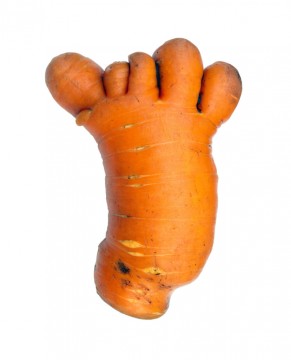 Who says carrots have to be perfectly formed?  Do we really mind if our cucumbers curl or our parsnips are less than perfect?  The supermarkets do, and this has come under attack from food hero Hugh Fearnley-Whittingstall.  But we, as the consumers, must accept some responsibility for this.  If we won't buy abnormally shaped veg, we can't altogether blame the supermarkets for not selling it.
But I'm pleased to report that the winds of change are blowing in this direction too, albeit not as quickly as they might.
Back in February, Asda introduced its wonky vegetable range with great success, selling 5kg boxes of misshapen seasonal produce at 30% lower than their standard prices. These caught the public's imagination and the company's social media post about their wonky veg achieved over 35,000 shares.
Aldi got good press for their non-spec potatoes which saved over 34,000 tonnes of waste. They sell other wonky fresh produce and are running trials to relax their carrot and onion specifications. What's to trial, I wonder?  It's food – why the heck are trials needed to prevent wasting it?
Morrison's, presumably after Mr F-W's tirade, is said to be embracing the wonky vegetable campaign. They claim they prefer to sell the veg individually rather than in pre-packed boxes like Asda. Actually, that gets my vote. The Asda boxes were well received but I wonder what happened to the less popular contents.  Were they binned by the consumer because they had produce in their box that nobody liked?
Sainsbury's too are making use of the non-spec veg. If they can't sell it as fresh produce, they're using it in their pre-prepared foods.  Excellent idea!  And Tesco are not being left out with wonky veg appearing in their 'Everyday Value' range.
But the Co-op's response is disappointing and frankly, I would have expected more from a cooperative. According to the Huffington Post, a Co-op spokesman said…
"We do sell smaller or misshaped fruit and vegetables, including apples and potatoes, in our stores when producers have difficulty meeting standards because of growing conditions. We continue to evaluate customer feedback and hope to widen our policy further in the future."
What a load of shameful corporate mumbo jumbo!  Frankly, I think that's more cop-out than Co-op.
But before we all get too excited and think waste food is a thing of the past, let me point out that while this is great progress, there is still a long way to go.  After all, Rome wasn't built in a day, although that might be because Nina & Co. wasn't the foreman on that job.
Save
Save