Guest blog by Maria Kuehn
Let me start off by saying that anyone who gets excited at the above prospect needs to be taken to hospital, put in an isolation ward and fed fish and other brain food for two weeks, or until they come to their bloody senses. What is it about thoroughly modern women who are successful, vibrant, funny, supportive and fantastic company EXCEPT when it comes to the issue of weight?
I know it's anecdotal, but the vast majority of my friends who have spent their entire adult lives battling against weight gain have indulged in the most spectacularly stupid 'wonder' diets that ultimately will always backfire.
As for the billion dollar diet industry, I have nothing but utter contempt for quick fix diets that verge on starving oneself or leaving out a food group completely. They are, of course, unsustainable and nearly always result in weight gain.
We live in a bonkers world where many young women desire to have bodies shaped like pipe cleaners, and the alarming rise in eating disorders for women in their twenties and upwards is truly depressing.
Obsession can have very negative consequences, and I've also observed that people who know the calorific value of a pea and have a library of diet books the size of a small country are bound to fail.
In addition, if I had a pound for every person telling me how fortunate I am never having to worry about maintaining a healthy weight, I'd be as rich as Roosevelt. Do I have a magic metabolism? Do I hell. There are no two ways about it. I practice Pilates (for a rotten back), I run a café, which is physically very demanding and I tend to eat my biggest meal at breakfast. I never, ever count calories and if I'm out at a restaurant I have whatever the hell I like. Eating is a highly pleasurable experience and as I also write about food and drink for a newspaper, I'm often out reviewing good and bad eateries.
If I had the solution I'd be a squillionaire. I am, however, with Lord Darzi, an eminent UK surgeon who has specialized in gastric medicine for decades. He believes the answer lies in surgery for people who have suffered the ills of obesity because they just can't manage to lose weight by themselves.
Anyway, as a teacher of healthy eating I see how difficult it is to change habits and it's also my job to make people aware of the contemptible food giants that sell drinks with 25 teaspoons of sugar in them. Now that is a subject which makes my blood boil.
I've had enough of ranting so I thought I'd add a couple of recipes that take no time to knock up, are incredibly easy to put together and are visually very appealing. Bon appetite.
Joojeh Chicken with Lemon and Coriander Hummus, Cucumber Raita and a Spicy Tomato Salsa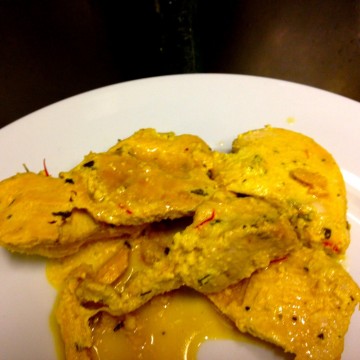 My local Persian restaurant serves this simple but delicious chicken recipe. It's a doddle to make, is low in fat, high in protein and makes a lovely feast if served with the following accompaniments.
TIP: I like to add a good hit of heat but you can omit this if chili isn't your thing.
Joojeh Chicken
Serves 4
2 large free range chicken breasts, cut into large cubes
1 pot of Greek yogurt (170gr)
juice of 2 limes
3 fat cloves of garlic, crushed
1 bird's eye chili, finely diced
1 tbs olive oil
a good pinch of saffron threads, dissolved in a tbs of hot water
a good pinch of sea salt
Simply mix together the marinade ingredients. Steep the chicken in the seasoned yogurt and refrigerate for at least six hours.
When ready to cook, pre-heat the oven to 180 degrees.
Tip the chicken onto a baking tray lined with foil (this makes cleaning a much more pleasant job) and spread it out. Place another sheet of foil loosely over the chicken.
Bake for 20 minutes, remove the foil and cook for a further 10 minutes. You should have a nice layer of juice to pour over each portion of chicken.
Coriander and Lemon Hummus
1 large tub of hummus (300gr)
juice of ½ a large lemon
a good handful of coriander leaves
2 tbs of extra virgin olive oil
½ a tsp of paprika
Empty the hummus into a glass bowl.
Chop the coriander leaves very finely with a mezzaluna or very sharp knife. Stir them into the hummus, add the lemon juice, pour over the oil and sprinkle with the paprika.
Cucumber Raita
170gr pot of Greek yogurt
1/3 of a cucumber
a handful of mint leaves
¼ tsp of white sugar
squeeze of lemon juice
pinch of sea salt
Scrape the watery pips from the cucumber with a spoon. Grate into a bowl, add the salt and let it stand for 15 minutes before scrunching the cucumber with your hands to remove any excess water.
Mix in the yogurt, finely chop the mint leaves, dissolve the sugar in the lemon juice, stir into the yogurt.
Spicy Tomato Salsa
2 large, ripe tomatoes, deseeded and diced
½ small a red onion, diced
1 medium red chili, finely diced
handful of flat leaf parsley leaves, finely chopped
1 tbs malt vinegar
pinch each of sugar and salt
In a glass bowl, dissolve the sugar and the salt in the vinegar.
Stir in the tomatoes, onion, chili and parsley just before serving.
Maria Kuehn co-runs a community cafe in Kingsgate Community Centre, Kilburn, London. The café recently won a Time Out award for the best cafe in West Hampstead and Kilburn.
Maria has won a Sunday Observer food award and has had numerous recipes published in various food magazines. As well as her food blog called Minding Bellies Well, Maria also has a food column in the Ham and High, a respected paper that reaches a big part of NW and N London.
She is currently working with Brent Mind on a project called 'walk, talk, fork'. The aim of the project is to get people moving, give them a short talk on nutrition and a hands-on cookery session. Maria also teaches healthy eating when she has the time.
Maria and her business partner are soon to be opening another cafe in Wembley.