A roaring fire, oak beams, old men playing dominoes, a balding dog drinking beer from an over-sized ashtray, the sticky carpet, the fog of cigarette smoke, a pentagram on the yellowed wall and a suspicious-looking landlord, looking at you in a funny way as he polishes the dimpled beer mugs; and if you wanted food, you had a choice between dry-roasted or salted nuts, crisps and pork scratchings.
How the Great British Pub has changed…
It's just over five years since the smoking ban took effect in England, forcing thousands of pubs to call very last orders and close their doors for good, as customers stayed in the comfort and liberty of their smoky homes, supping cheap, supermarket alcohol.
This hasn't actually made much of a difference to the level of people who still smoke. In percentage terms, smokers had already fallen from making up around 45% of the adult population in 1974, to just over 20% in 2007, when the smoking ban was introduced. It is at a similar level today.
However, nobody should have to breathe in second-hand smoke involuntarily, and while smokers may not like nipping out in the incessant rain of the British summer (particularly this year) or on freezing winter evenings to feed their addiction, I think most would reluctantly agree that it was the right move.
It seems that pub décor has improved since the ban, too; possibly because the breweries and landlords have decided to invest more, knowing renovations have a longer life cycle without the accumulation of jaundiced tar over everything.
All in all, pubs are now a fresher, cleaner, fairer environment for everyone.
Another massive improvement over the past couple of decades is the rise of the gastro pub and pub grub in general. During the peak of the recession, on average, 25 pubs were closing every week. The vast majority of these pubs were of course drink led, and with beer retail "off sales" now almost equaling pub "on sales," it's not difficult to see why those pubs that did serve food, and good food at that, were far more likely to weather the financial storm and turbulent economy.
As well as this, it's inspired a new generation of alehouse-based chefs (rather than chicken-in-a-basket cooks) and lit a blazing passion for culinary creativity, mirrored by the increase of and high ratings for all the foodie shows that are pumped out over the televisual airwaves.  And of course, for us foodies, it's great to see Great British pubs reaching the dizzy heights of Michelin Star fame, as well winning food accolades and awards.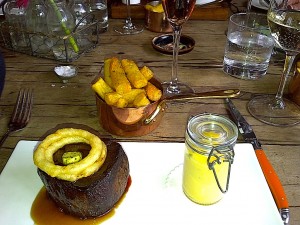 The first 2 Michelin Star, Hand & Flowers Marlow. Well worth a visit; foodie heaven!
Whereas we used to go to the pub for alcohol, this has – for many people – become a secondary consideration when visiting our local. In fact, if there's exceptional food on the menu, we're readily prepared to make an adventure of it and travel much farther afield.
There was a time, too, when, if a lone woman walked into a pub and ordered a drink, she'd have been seen as some sort of mentally unstable harlot, spoken about in whispers by the old boys with their dominoes.
Now, nobody bats an eyelid, and rightly so! It's a common sight to see a woman sipping on a glass of the good stuff, laptop out or peering at their smartphone while they wait for the Gordon Ramsay wannabe in the kitchen to prepare their lunch. In fact, more and more pub co.s and brands recognise the importance of women as customers and decision makers, so much so, that they specifically develop their brands with us women in mind!
How many pubs now don't have a well-stocked wine cooler and selection of reds behind the counter? Thirty years back, you'd be lucky to find anything more than a dusty bottle of Chianti tucked away behind the spirits, and maybe a bottle of Black Tower chilling in the fridge.
The Great British Pub has not only gone through an evolution, but also a sexual revolution!
And, finally, I'm very happy to say, both from myself and on behalf of my little man, Captain, that dogs drink out of bowls, now, rather than ashtrays!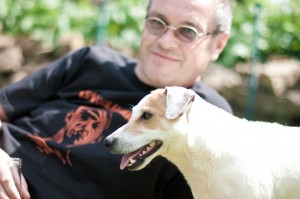 Although not every pub in the country is dog friendly, many do cater for our hairy friends and it's obviously worth investigating before you visit. A great site I've found for this is http://www.doggiepubs.org.uk, which lists over 4000 pubs around the UK who accept canine customers, and they're only included by recommendation from other dog lovers who have visited.
At those pubs which only allow guide dogs, well, just tell them that your intention is to get blind drunk and the dog is only with you to guide you back home, because you'll have forgotten the way by closing time!