As we say goodbye to the 1970s, life takes a whole new turn in the 80s. The nation was enraptured by the fairytale romance of Lady Diana Spencer and Prince Charles, and the UK was ruled with a rod of iron by Prime Minister Margaret Thatcher.
1980s women wanted careers, equal opportunities and power. Padded shoulder pads and big hair helped create their 'don't mess with me' image. Stay-at-home housewives become an endangered species as women entered the workforce in their thousands, and convenience food took over from traditional home cooking.
The 80s were all about work, work and more work. Food was no longer something to linger over and relax with. In the affluent 80s, homes were equipped with freezers and microwaves: everything needed to produce meals in a flash. And ready meals swamped the supermarket shelves.
Although the American-style fast food restaurants had a foothold in the 1970s, the 80s saw an explosion in their popularity. Children were swept along on the tide of fast food euphoria, as no birthday party was complete without burgers, fries, and a party with that much-loved clown, Ronald McDonald…
The 80s weren't just about the American influence though. Pasta grew in popularity and serving a tri-coloured pasta salad was about as trendsetting as you could get.
Pizza was the next Italian craze to sweep the country. The first UK Pizza Hut opened its doors in 1982, although it can make little claim to an Italian heritage, being a joint venture between PepsiCo and British brewer, Whitbread. But pizza was here to stay and before long, take-away shops were appearing on every corner, pioneering the home delivery service we know today.
Lunch in the 1980s was revolutionised by the advent of fresh sandwiches on the supermarket shelves, an innovation by none other than Marks & Spencers. This was the perfect solution for the 80s working woman who could pick up her lunch and some new lingerie all under the same roof. And if time was at a premium, a Pot Noodle was said to provide a quick nourishing snack in the time it took to boil a kettle.
For the working mum, convenience was essential. Processed food, now blamed for today's obesity problems, was quick and easy to prepare. A taste for processed turkey steaks and sausages swept the country thanks to Bernard Matthews' 'Bootiful' advertising campaign. 
For many, the 80s were a time of prosperity and eating out. Being seen in the right restaurant, wine bar or club was as important to our generation of Yuppies and Sloanes as owning the latest in communication technology – the 1980 style brick-sized mobile phone.
Nouvelle Cuisine was the new dining out experience and focused on fresh ingredients and perfect presentation. This beautifully prepared food was a culinary art form, and nobody could accuse its minimal portions for the nation's expanding waistline!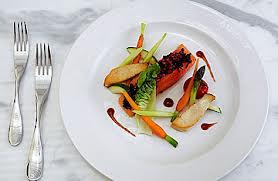 Drinking was an another excess of 80's life.  Filter coffee machines made their appearance, fuelling workers with caffeine as they worked long hours in search of power and success. The ethic of the day was to work hard and play hard, and champagne was quaffed by the magnum by our upwardly mobile young professionals.
But as the boom days of the 80s slipped into recession, things were to start changing again as the decade drew to a close. One organisation which can claim to have influenced this change is the Slow Food Movement.  Founded in 1986 by Italian Carlo Petrini, it promotes a traditional and sustainable food ethic and the importance of local produce – sounds familiar, doesn't it?
Will the fast food fad continue through the 90s or will slow food win the day? Watch this space to find out!