I love innovative businesses. I love innovative food businesses even more. Top of my list of favourites right now is Naomi's Café Bar in Banbury. Why? Because customers never grumble about their bill – because they only pay what they think it's worth. And because it's rapidly becoming a community hub.
'Pay what you like' restaurants (PWYL) aren't a new concept. Peter Ilic's restaurant, Just Around the Corner, was the first to adopt this model in 1985. PWYL has gained ground in the past ten years or so, although it still meets with mixed reactions.
This is how it works… you order what you want from the menu (there are no set prices). When you're ready to leave, you don't get a bill, you simply put what you think it's worth in the honesty box. What better way to kiss goodbye to those 'HOW MUCH?' or 'waste of money' type grumbles that we hear so often in restaurants.
Critics of PWYL say it isn't a sustainable business model and people aren't 'inherently honest', but Naomi Perkins is proving them wrong. Naomi's Café Bar is profitable and the system is working. Some guests pay more than they might if they were billed, and there is little evidence of anyone taking advantage of the system. People on lower incomes can afford to visit so it delivers a social benefit as well.
One obvious benefit of the PWYL is the accompanying publicity it generates. Naomi has been on TV and the BBC interview went viral on social media. I can only applaud her for taking advantage of the marketing benefits of something which is still an unusual concept.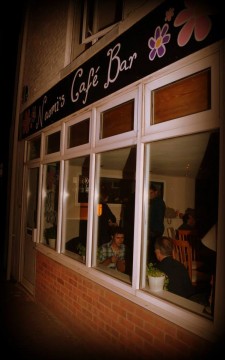 Naomi has taken her café bar a step further than just a pay what you like eatery. The café bar is catering for and entertaining the community. There is a programme of open mic nights, art classes and exhibitions which create lively buzz and we understand more events are planned.
Works of art by local artists are featured on the walls. On the second floor, there's a reading room for those who want some peace and quiet. Downstairs, customers are welcome to play the piano and entertain the customers. Reading short stories or poems is encouraged and if you feel like capturing some local atmosphere, bring along your easel and sketch or paint to your hearts content. And if your fellow diners like what you do, they're encouraged to leave you a tip!
Apart from the whole PWYL concept, I think what we're seeing in Banbury at Naomi's Café Bar is a culture change. A few years ago, it was the pub which was at the heart of the community. But with all-round entertainment, affordable food and drink, and an entrepreneurial spirit, perhaps the café bar culture will take over where the pubs left off.