A year or so ago, I went to Manchester with some of my friends to see a group at the brilliant Sankeys. Before we hit the club, we decided to take a stroll down the infamous Canal Street and indulge in a few bevies to get us in the mood. If you've ever been to Canal Street you will know that it's probably the best bar district in Manchester and it's definitely the place to see and be seen. One of our friends highly recommended Velvet, so that's where we went.
The bar is absolutely gorgeous, very decadent and opulent. It has stunning velvet chaise longues, baroque furniture, gilt framed mirrors, and amazing chandeliers. When we first walked in, we were all very impressed; I was also very impressed with the reasonable prices too, but then I am used to paying over the odds down south!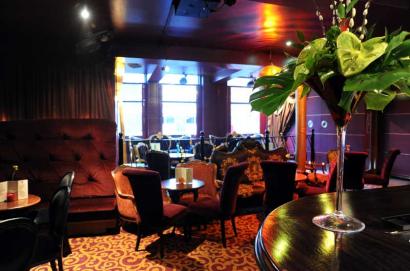 After a few minutes standing and bopping a bit to the great tunes, I realised I couldn't really move my feet, my girlie sandals where somehow stuck to the carpet. When I bent down to investigate further, I was suddenly hit by a hideous stale beer odour and a carpet that felt, for want of a better word, squidgy!
After a few minutes, a table became available so we seized the opportunity. The sofa was as good as it looked, very comfy, but unfortunately, some oik had deposited their chewing gum on one of the arms, and the table was loaded with empty glasses as well as being coated with spilt drinks. Everything you touched just felt sticky, dirty and smelt.
Now you're probably thinking, Nina, you're getting on a bit now, and you're just being overly fussy because that's what trendy popular bars are like these days, you can't keep them clean when it's busy and the guys don't mind anyway!
But I'm sorry, that's not true. Yes, I know I do a lot of work in nightclubs, bars and pubs, so I probably spot things which others may miss, but on this occasion everyone in our group of eight, aged 25 + made the same comment; fabulous bar, spoiled by shoddy standards. And the conclusion? Well, next time we're in Manchester we will no doubt find another bar and give Velvet a miss.
What I'm trying to say, is never underestimate the impact your front of house standards will have on your customers. There are loads of great, lively, extremely busy bars out there that have got it right, and then there are those that don't care, these are the bars that are losing their customers and yet amazingly they probably don't know why.
So the reason for this rant and blog is to ask you; how good are your standards?
And I'm not just talking to bar owners now either! In fact any venue that serves food or drink should be answering this question. That includes all of you guys: pubs, restaurants, cafés, coffee shops, takeaways, tearooms, hotels, canteens etc. (the list is endless)
I suggest you go outside your business on a busy night and then walk in. Try to imagine you are a customer, what does your business look like? What does it smell like? What are your staff doing? And how are your customers behaving? If your business is clean, and smells good, your customers will treat it with more respect. If you provide bins, customers will use them. If your staff clean the tables when they clear them, people will make an effort to keep them clean. If you make the effort; your customers will enjoy their visit, and more importantly, they will return.
I'm sure Velvet has improved dramatically since my last visit, if it hasn't, then perhaps someone could do them a favour and forward them the link to my blog!