The tension mounts. Hoards of hopefuls in posh frocks and dinner suits enjoy the evening sun and a glass of Bucks Fizz. Inside the huge marquee, the caterers prepare for the celebration dinner. And everyone hopes that it will be them…
The event? It's the night of the eagerly awaited 2014 Cherwell Business Awards dinner. I think it's fair to say I was excited. And jittery. And hopeful.
The Cherwell Business Awards attract a huge number of entrants across ten categories, and the competition is fierce. And we're one of three hopeful finalists for the 2014 New Business Award sponsored by local business centre, Bloxham Mill. So how did we get on? I'm not telling you… yet.
First, read on and find out why entering business awards is such a great marketing strategy.
Award-winning company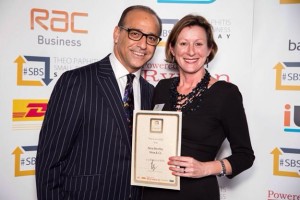 Nina & Co can already boast being an award-winning company. In 2013, we were winners of a coveted Twitter #SBS award, set up and judged by former Dragon, Theo Paphitis, himself. Theo's reputation ensures #SBS winners attract a great deal of PR coverage. And what better way of getting your name in the papers, than being associated with a mega-star?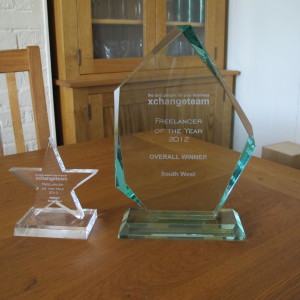 In 2012, I was thrilled to beat five other finalists and be crowned South West Freelancer of the Year in recognition of our marketing strategy for Exeter University's Students' Guild.
Entering awards, even if you don't win, gives you the opportunity to generate free publicity in the media. It helps boost your company's reputation and sets you apart from your competitors. And what self-respecting marketer would turn their nose up at that?
Clients love awards!
Everyone loves a success story and your clients or customers will be no exception. Being an award-winner, or even a finalist for a business award is an endorsement. You must be good – you're an award-winning company.
Clients enjoy the kudos. They can talk about their association with you – an award winning company! They're proud of you. And that's good for their reputation too.
Making awards part of your marketing strategy
If you're working on your own marketing strategy, be sure to include entering business awards. To help you on your way, here are our top tips:
1. Do your homework!
Most regions run local business awards, often organised by councils and business associations. They are generally free to enter and great for boosting your profile locally. There might be awards specific to your industry sector too.
Be aware, some awards are run as commercial enterprises. So be sure to check if there are any entrance fees and whether you will be expected to pay to attend the (often very expensive) awards' ceremony dinner.
2. Choose an appropriate award!
Look carefully at the different award categories and the entry criteria, and only enter ones which are appropriate to your business. If you don't match the criteria, don't waste your time entering.
3. Don't leave it until the last minute!
Start writing your entry as early as possible. It takes time to put a good entry together. If you need help, find a reputable marketing or copywriting specialist.
4. Answer the judges' questions!
Most award entry application forms give a list of questions to answer. They might also give you guidance on what the judges will be looking for. Be sure to take this into account when writing your answers.
5. Have a business plan!
Most business awards expect you to have a business plan. This is normally submitted to support your entry. Be sure to keep it updated and reviewed so you have it ready and don't have any last minute panics.
6. Be prepared to be interviewed!
Be prepared for an interview with the panel of judges. If you're entering a local award, the judges might visit you in person. Some will conduct telephone interviews.
Read your application to refresh your memory before the interview, so you know exactly what you've said. Have a printed copy to hand so you can refer to it if you need to.
Be prepared for some awkward questions. Like going for a job interview, expect some curved balls along the way!
7. Shout about it!
Even if you don't reach the finals, let alone win an award, be sure to shout about it. Entering your business for an award demonstrates confidence in your product or service and boosts your credibility.
8.  Be gracious!
Remember to be a gracious winner or loser. Congratulate the victor and commiserate with the runners-up.
Cherwell Business Awards Results
After a tense wait, the results were in. And sadly, Nina & Co didn't take the New Business Award. But we had a fabulous evening rubbing shoulders and networking with other local business people. We enjoyed a slap-up dinner, a few glasses of wine and we have a beautifully framed certificate to add to our collection. And we are now acclaimed as a finalist in the business awards.
Our heartiest congratulations go to iPhone Experts who pipped us at the post. And to Musclegenes Ltd, who like us, were the valiant runners up! While we can't boast being the best in the Cherwell region, being one of the top three new businesses is definitely something to shout about, and we're really proud of our acievements!
Looking forward
We might not have been this year's winners, but we'll be back in 2015 pitching this time for the Small Business Award. We've learnt a lot from this year's experience and enjoyed every minute of the nerve-wracking journey.
So get entering now. In the immortal (if slightly hackneyed) words of Camelot and the National Lottery, 'you've got to be in it to win it'!