Despite being just a short nine-year interlude (1901-1910), the Edwardian era and the start of the 20th century changed the face of food and dining for us here in the UK. It fashioned some traditions, like afternoon tea, that are now as popular today as they were 110 years ago.
Of course, back in Edwardian times, only the privileged few would be dining at the Ritz and enjoying river bank picnics with the butler in attendance. While the wealthy enjoyed the finest food money could buy, the poorest members of society were still suffering deprivation and hardship.
With historical TV dramas like Downton Abbey serving as our history lesson, it's easy to picture ourselves as Lady Mary or the Earl himself living the life of luxury in the 'big house'. In reality most of us would end up trading places with the footman or Daisy, the kitchen maid, and that wasn't such a glamorous option. I'd like to think I could have scaled the heights and at least been the Mrs Patmore equivalent. If I was lucky I might one day aspire to becoming a housekeeper, responsible for the whole household management!
King Edward VII, the royal reprobate, with his penchant for eating, drinking, gambling and shooting (and womanising), had a great fondness for French cuisine. Needless to say the landed gentry followed his lead and the chefs of the day were tasked with bringing the finest French dishes to the immaculately dressed Edwardian dinner tables.
Think of French chefs of the day and you must surely think of Escoffier. He is reputed to have said 'A cook is a man with a can opener. A chef is an artist'. In most British households, cooking was regarded as women's work and the head kitchen honcho would have been a woman. The title 'cook' almost sounds derogatory today.
Chefs, in Edwardian times, were male and typically of European origin. They were, no doubt, a very superior breed. In their own opinion, anyway. Despite living most of his like in the UK and the US, Escoffier refused to learn English because he didn't want to think like the English or cook like them! It's probably just as well Facebook didn't exist back them or he would have been shot down in flames for that one!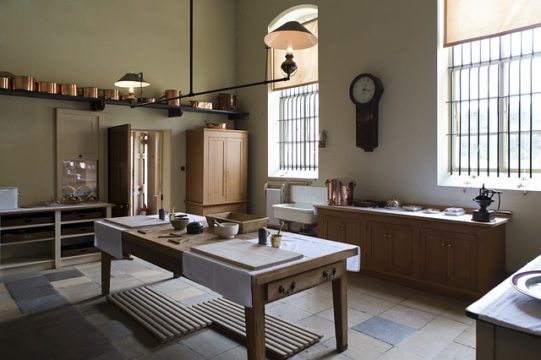 For the rich in Edwardian England, opulence was the order of the day. Dinner parties were essential social gatherings where the hosts would display their wealth and class. Dinner would involve some eight to ten courses served by the butler and the most attentive of footmen. If you fancied dining out and displaying your wealth publicly, you and your guests could swill champagne that cascaded from an illuminated fountain at the Ritz.
Fridges first made their debut in Edwardian times. As well as keeping food fresh they were seen as a status symbol and a way of displaying wealth. But technology had a long way to go because these early fridges leaked harmful gases such as ammonia, methyl chloride and sulphur dioxide. In cities, around 25% of families had new fangled gas cookers, while rural dwellers still cooked on their large solid fuel ranges.
So while the rich and famous were eating themselves into early graves and dying of refrigerator-induced respiratory failure, what about the rest of society? Lyons Corner Houses, that bastion of British history, first opened their doors in 1909. It could be said they were the first large restaurant chain catering for the middle and working classes.
Those housewives who couldn't afford servants still had their social standing to consider. Cookery books were popular, as were books on home management. Fish & chip and pie & mash shops were today's equivalent of take-away food. Branded convenience foods started to make an appearance with products such as Fry's Cocoa, Oxo, and Edward's Dessicated Soup was the Edwardian equivalent of Cup a Soup.
So when you sip your tea and indulge in a feast of sandwiches, scones and cakes, remember you have your Edwardian forebears to thank. Just don't forget to loosen your corsets first.