I know a lot of my regular readers are used to me ranting and raving about the supermarkets, food waste and injustices in general. Today you're in for a surprise. I am breaking the mould and sharing a bit of good news that warmed the 'heart of m'cockles'. Bureaucracy and injustice caused the problem, but this is a tale of how people-power triumphed in London's Bethnal Green. Read on …
Frank Wang is described as one of London's favourite baristas. For many years he served the local population of Bethnal Green with coffee from his kiosk outside the tube station. Reports of his tenure vary from between 15 and 20 years. But that is just by the by. Enough to say Frank was an institution. As well as serving excellent coffee, he was kind and generous, looking out for local homeless people and providing them with refreshments during the long, cold months of winter.
In February 2018, work started on a new building (screened by a fence) immediately behind Frank's coffee stall. The council asked him to move to another site across the road. Not unreasonable, you might think, except the other site had no electricity supply – an essential ingredient in coffee making.
AND … this was not the council's decision to make. Frank's contract was with TfL (Transport for London) and Bethnal Green tube station – not Tower Hamlets Council.
Frank refused to move and two months later, arrived to find the council bully boy's heavy mob had found a way to put him out of business. The electricity cables had been cut leaving Frank with no power supply! The electricity is supplied by the tube station and paid for by Frank. It was nothing to do with the council.
A petition on the Change.org website describes this as an act of 'wilful illegal destruction of property'. The tube station staff knew nothing of it. The police could do nothing. And Tower Hamlet Council refused to talk to Frank about the situation. Their excuse? That the site belongs to TfL and is nothing to do with the council.
So what authority did the council have for cutting off the electricity and destroying the livelihood of this small business owner? His years of service to the community and its people meant nothing to the Tower Hamlets council. The only explanation is he was cast aside to make way for bigger flashier businesses and more revenue for the council in business rates.
Okay – that's the rant part. Now for the good news.
Tower Hamlets Council didn't take Frank's customers' opinions into account. Always a bad move when it comes to the voting public. A petition was set up to reinstate Frank's license and power supply. Over 4,000 people signed. There were protests. The press was informed. MPs and councillors were lobbied, as was the Mayor of London. The great British true grit and spirit of the blitz triumphed! The people's voice was heard.
Now these things do take time, and financial pressures meant that Frank's kiosk and equipment had to be sold to help him support his family. So Frank's pitch was reinstated, but without his stall and equipment, he was no further forward.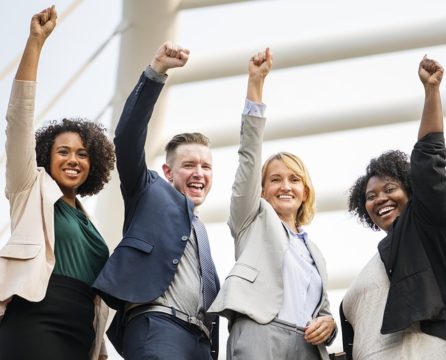 But public opinion wasn't finished with Frank yet. A crowdfunding appeal was launched and in just 70 days, over £10,000 was raised to buy a new stall and coffee machine. In June this year,15 months after the council forcibly pulled the shutters down on Frank's coffee stall, he's back with a spanking new, ultra-smart stall and coffee machine. Welcome back Frank! The Nina & Co. team know the delights of great coffee and we're delighted to share your story.
To the rest of us who often feel we can't fight back, this is a real life demonstration of just how we can make ourselves heard. Let's do more of it and fight back against bureaucracy and the power-crazy institutions that are hell bent on destroying our way of life. Long live people power!