Not long ago I watched a re-run of a TV programme based in the 60s. It made me laugh. It wasn't a comedy. But the characters' horror at a local restaurant found (by the environmental health police) to have goat meat in the fridge tickled my funny bone. How times have changed. And what a blinkered view we had. But that's what attitudes were like back then.
How about I start with some goat facts? Did you know…
… there is more goat eaten than any other meat across the world?
… beef and lamb contain around three times more fat then goat meat?
… adult goat meat is sometimes called chevon (on posh menus)?
… meat from kids (the goat variety) is called cabrito or capretto?
… goat's milk is easier to digest than cow's milk?
… Boer goats (or Boer crosses) produce the best meat?
OK – that's enough of the facts. If you want to know more, check out this goat farmer's website.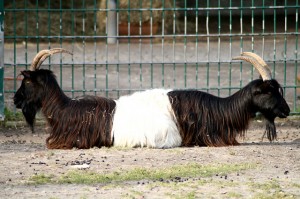 If you suffer from wanderlust, you might have already enjoyed the delights of goat. Mention goat meat to a keen traveller and they'll rave about the delicious goat curries they tried overseas. But goat is much more versatile than it's given credit for. Adult goat meat is a little like mutton and more suited to slow cooking methods. It's also great for mince and burgers. But goat kid meat is like lamb and can be grilled and barbequed in just the same way.
A few years ago, the increased demand for goat meat was attributed to the UK's growing ethnic population. But today, even us unadventurous Brits are broadening our horizons and developing a taste for this very underrated meat.
Trendy chefs from some of London's top restaurants have been seduced by the delicate flavour and versatility of goat. Even the Co-op has jumped on the goat-wagon and introduced it to their meat range. If it's in the Co-op, it's pretty certain goat has arrived!
That's good news and particularly for all those little boy Billies – Defra estimates 30,000 of them – who get the chop at birth. Like cows, goats are a valuable dairy herd. And like calves, it's only the girls that are allowed to live. Apart from the fact it's delicious and nutritious, it's this appalling waste of a precious food source and a young life that really gets my goat.
But as the popularity of goat increases in the UK, so does demand. And British goat farmers can't keep up. That means a lot of the goat meat in the UK is imported from overseas. The quality is variable and so are the standards of animal welfare.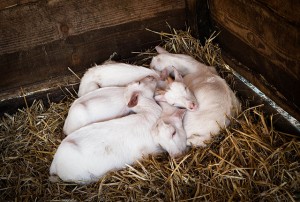 So all you farmers and smallholders out there – stop the senseless slaughter of the male kids. They are a valuable resource so let's start by giving them a meaningful existence. And while you're at it, how about rearing more goats for meat – they're in big demand.