My heart goes out to the thousands of people who were left homeless by the recent flooding up north. There's no good time to have your home destroyed, whether by floods or anything else, but for it to happen over Christmas must be particularly soul-destroying.  And this is nothing new. Floods are a regular occurrence and we seem powerless to prevent them… or are we?
According to the Association of British Insurers, the cost of meeting flood damage claims so far this winter are around £1.3bn. Financial consultants KPMG, gave an estimated cost of £5.8bn for the recent floods. This presumably includes the cost of all the emergency services and environmental damage.
With 16,000 homes flooded this time, how can anyone be complacent? It's no longer a case of 'I hope that never happens to us' but more of 'what if it does happen to us' or even 'when will it be our turn'?
I'm not a tree hugger, but I do firmly believe that our only real defence against flooding is environmental management. Environmentalists and ecologists and champions of the organic movement have been telling us this for years, but has anyone listened?
Back in 2009, Dr Oliver Moore wrote about organic farming practices and how it can change the soil structure in just three years. The basic premise is that the better the soil quality, the more water it can retain.  If more water is kept in the soil, there's less run-off to swell the waterways and flood our homes and land. You can't argue with that, can you?  It's plain common sense.
In a recent article in the Irish Examiner Dr Moore said, despite the evidence, nothing much had changed when it came to planning and policy. Dr Moore isn't saying that all farms need to be organic. Any farm can use agroecological techniques.
What is it going to take to make people sit up and take notice? We need to get our heads out of the sand and address this growing problem. Because unless we all move to somewhere high and out of the reach of flood water, it really could happen to each and everyone of us! Yet here is a potential solution that's being ignored.
Its supporters are labelled as 'militant environmentalists' and 'green zealots'. Well, I'm proud to be one of them because I believe that we're doing irreparable damage by using intensive farming methods and ignoring sound advice from environmental experts.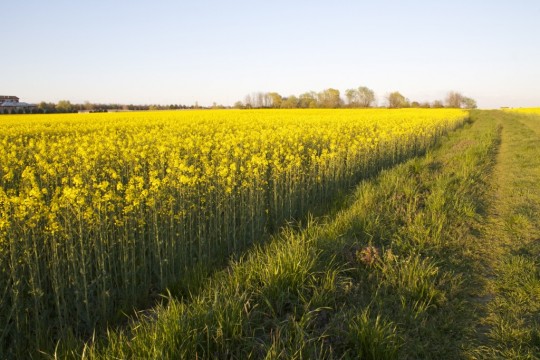 It could be argued that we need intensive farming to feed the world's growing population. But when crops are lost and the land takes years to recover as happened in Somerset when the Levels flooded, that argument doesn't hold water. As floods become more prevalent, it's not just homes and lives that are at risk. Our whole livelihood is threatened. How do we make up for that loss?  Farm even more intensively and compound the problem?
It could also be argued that we want cheap food and the only way we can have that is by intensive farming. But the same rule applies. If farmland and crops are damaged by flooding, food will be in short supply and therefore cost more. You don't have to be an economist to work that one out.
And what about the cost? That's bound to be another argument against  changing farming practices and the way we manage the land and environment.  But that one won't hold water either. Just do the sums…
£5.8 billion – cost of one month's flooding
£2.3 billion to be spent on flood defences
Where does that money come from? Our pockets, of course. Insurance companies aren't known for their benevolence. Premiums will rise and keep on rising to meet the costs – irrespective of where we live, insurance will cost us more.
Flood defences, emergency services and all the other associated costs come from taxes. Either we'll have to pay more tax or money has to be diverted from other vital services like heath care and education.
So will agroecological practices help? They seem to have in the Yorkshire town of Pickering. This December's extreme weather conditions didn't affect Pickering, despite it being prone to flooding. By contrast, just 40 miles away, York was flooded.
Pickering had flooded four times between 1999 and 2007. Experts said the only solution was to build a £20 million concrete wall in the town centre to prevent the river bursting its banks. But as Pickering is a popular tourist spot, locals were against this and decided to do something about it themselves.
The town took expert advice and implemented a generations-old solution which involved slowing down the water run-off in heavy rain.  This included building leaky dams from logs and branches, using bales of heather and creating smaller drains and gullies and planting 29 hectares of woodland.
The project appeared to be a success but was quickly decried by Jeremy Biggs (director of the Freshwater Habitats Trust) in the Guardian. He claimed that it didn't rain heavily in Pickering and that traditional flood defences are better because the 'UK doesn't really have much experience of using more natural landscape absorption methods yet'.
But didn't those traditional flood defences fail in Cumbria as reported here in the Guardian again? It strikes me that the aptly named Mr Biggs hit the nail on the head. Surely, if we don't have much experience in natural rainfall absorption methods there's only one way to gain that experience. Geoffrey Lean, the author of the original article, refuted Mr Biggs claims. In a blog he reported that Pickering residents (and they should know), said there was heavy rain during the period in question and the new environmental defences did work.
Well, I wasn't in Pickering. I was safe and dry in Oxfordshire. But it's pretty clear to me that the defences in Pickering have been successful. By preventing the devastation and potential loss of life – just once – it must be a success.  Perhaps Jeremy Biggs should have kept his 'bigg' mouth shut and bided his time before casting aspersions. After all, as he pointed out, we don't yet have the experience, but right there in Pickering we're gaining it.
You don't have to be militant environmentalist or a green zealot to realise that if you have a problem and the remedy isn't working, you need to try something else.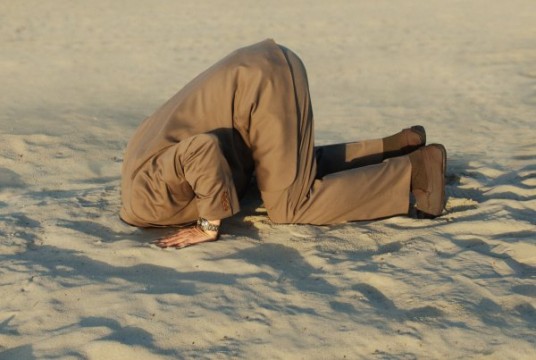 Or is it that do the anti-environmentalist brigades' heads are in a darker place than the sand and they just can't see the light?