Wanted. One large, robust brick wall – needed for head bashing exercise for frustrated food marketer and common sense advocate who is in despair over hospital food.
I know the NHS is everyone's favourite whipping post. I also know how fortunate we are to have it, and what a thankless task it must be for so many dedicated people who work long hours with little thanks or recognition.
But when it comes to feeding the patients, surely someone in authority must recognise the connection between nutrition and good health. I was up in arms when I read about the closure of the kitchens in four of Oxfordshire's Community Hospitals – a decision that was taken by the Trust without public consultation.
All over the country, hospital kitchens are closing or have closed. People are out of work and patients have no choice but to eat the cook chill ready meals that are put in front of them. Why should Oxfordshire be any different? The answer is, of course, that Oxfordshire isn't any different except it's in my back yard.
TV chef James Martin's hospital food campaign was laudable, but despite being aired on the Beeb, it seems to have had little effect. Much as I admire his efforts, it's like trying to stem the tide. Sadly, people's welfare, ill people at that, can't compete with the penny-pinching bean counters who control the budgets!
James Martin points out that while moving to cook chill might satisfy the cost-cutters, it causes additional problems. While we agree with everything he said, the real problem is bigger than just the hospital or even the NHS. Everything these days is compartmentalised. People never pause to look outside their own insular little boxes.
Nobody, from Whitehall down, thinks things through to a logical conclusion and considers the bigger picture. In organisations like the NHS every hospital department has its own targets and budgets. Everyone is concerned with covering their own backs, not making waves, and meeting their own targets, irrespective of the knock on effect. It's a case of "I'm all right Jack, pull the ladder up" and the result is inefficiency and low standards.
Lets consider the implications of closing a hospital kitchen (apart from the obvious patient health / food issues):
Staff are made redundant. Unless they find another job, they're going to claim unemployment benefit. But that's okay because it's a different government department and someone else's budget.
If that person can't pay their rent because they've lost their job, they'll end up claiming housing benefit. But what the heck, that's someone else's problem (and budget) too.
What about the huge amounts of packaging and waste food that's generated by cook chill meals? What about the Government's waste targets? And that's without mentioning the scandal of food being thrown away while millions starve.
What about the food miles clocked up transporting these ready meals? But why should the NHS managers worry about that? It's not their concern. Or their targets. Or their budgets.
Nutrition is essential to good health. Presumably, a patient who is well fed with good quality meals is likely to have a faster recovery time. That means they can be discharged sooner and ease the pressure on beds. But bed blocking is probably somebody else's concern too.
Of course, hospitals could just send the patients home regardless and solve their problem. That's what those people over at social services are there for, isn't it. Their budgets? That's their problem.
I could go on and on, but I fear my blood pressure might reach danger levels and frankly, the thought of a hospital stay fills me with dread.
There are answers to these problems if the politicians and their lackeys would just have the 'proverbials' to address them. Applying some commercial savvy would be a good place to start. If hoteliers can run huge operations successfully, efficiently, and still make a profit, why can't hospitals take a leaf out of their book?
The hospital hotel model that's widely adopted in Scandinavia does just that, but here in the UK it met with a lot of resistance from the change-averse mob. After a lot of hype two years ago, we found just one Hospital Hotel in England. Christine Odone's 2013 Telegraph blog on the subject is interesting reading. She says it costs £300 a day to accommodate someone in a hospital bed and a typical overnight stay in a London hotel would cost around £120.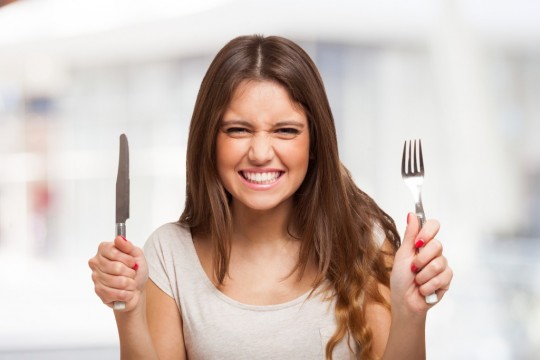 Take the Royal National Hotel near Covent Garden in London. It has 1630 rooms. Assuming each room is a double, the hotel can accommodate 3,260 guests at capacity. You can book a double room there from £113. That includes breakfast if you book online. They have an Indian buffet, a pizza restaurant, a Chinese restaurant and a 'Roastery'. Pound to a penny they don't buy in cook chill meals to feed their guests. So how do they manage to stay within their budgets and make a profit?
What about these huge cruise ships which can carry over 6,000 people? Have you ever been on a cruise? They are famous for their fabulous cuisine and service. So the costs, lack of efficiency and food management skills in the public sector can be nothing to do with the volume of people they're catering for.
I was fascinated by this article on the Portsmouth Hospitals' website. They brought in cook chill in 2007. Meals are transported 155 miles from Wales. Very economical!
A plate of sad-looking sausage and mash was described as 'a very nice dish'. Really? It didn't look remotely appetising to me. It looked like the worse kind of 'value' sausage made with more bread than meat. And peas are meant to be green, round and succulent – not grey, faded and wrinkled. The hospital facilities manager was quoted as saying '…but then everybody eats ready meals at home'. Everybody? Really?
The same manager said the hospital is a 'difficult place to cater for and it takes a huge amount of planning to do it'. He might have been stating a fact, but it did sound to me like he was making excuses. The hospital has 1200 beds – compare that to the Royal National Hotel.
If these huge hotels and cruise ships can feed their guests well, why the heck can't the NHS? Is it all just too much effort? Is it mismanagement? Is it because NHS catering staff are paid peanuts… with the obvious results?
James Martin and the BBC film crew approached every NHS Trust in the UK and all, except Scarborough, refused his offer of help. It's clear that if there is to be change in NHS catering standards, it has to come from the very top. My advice is to give these pig-headed managers a straight choice – either get your act together and accept the changes or collect your P45 at the end of the week.